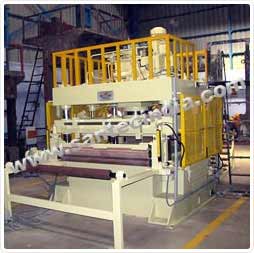 Some of the benefits of hydraulic presses are:
Full Tonnage Throughout Stroke
Hydraulic presses have ability to deliver full pressing force anywhere in range of stroke
Customization
Easy to design hydraulic press as per customers' specific requirements like large bed sizes with little tonnage/high tonnage for small work area
Flexibility
Here, users are allowed to adjust tonnage and maximize cycle time. More efficiency is achieved by eliminating excessive ram movement/changing pressure/maintaining ram speeds
Dedicated or Multi-Functional
Hydraulic presses can be designed for any level of sophistication from simple dedicated cell press/fully integrated multi-purpose system. The flexibility is further increased through additional stroke capability that helps in reducing set-up time as well as in easing die changes
Lower Up Front Costs / Fast ROI
Hydraulic presses are most simple in design and feature use of proven, readily available hydraulic components. These are much less expensive up-front in long term operations
No Design Limitations
Hydraulic presses are designed for multitude operations like up acting, down acting, side acting and multi action. Further, the power systems are placed directly above/below as well as remote from press
Over-Pressure Protection
Hydraulic relief valves in hydraulic circuits help in providing built-in overload protection
Unlimited Control Options
Hydraulic presses controlled through different ways from basic relays to sophisticated PLC control where operator interfaces can be added to press systems for facilitating ease of job. Further, these also allow controlling of speed control, pressure holding and dynamic adjustments. Further, Ram force and speed can also be controlled in any direction.
Part Accuracy
Provide greater quality of manufactured part in comparison to other types of presses